From Brian Brennan :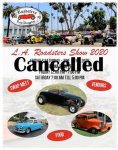 You knew it was coming but it's so sad. I've been to every Father's Day Show since the late '70s and have the mugs from all the times I drove my roadster. It's going to feel odd not having a mug for 2020.
I can help you with your "hot rod" habit by visiting me on my Facebook page Modern Rodding and Instagram @modernrodding or visit Modern Rodding and Classic Truck Performance at,
InTheGarageMedia.com
Let's all stay safe and soon we will be on the road having fun with cars.