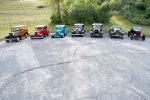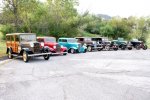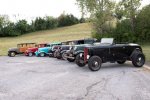 It took 45 years to accumulate this collection. The following is a little history on the cars.
I first bought the roadster 6-12-1972 out of Wichita, KS. I sold it on 10-26-1974 and bought it back 4-8-2017. It had passed through three owners. The third owner contacted me chasing its history. I later got the opportunity to buy it back.
I bought the Woody 3-1-1975 from an ad in the February 1975 issue of "CARS and PARTS". It's restoration was completed in 1959 by Snyders Garage, Mount Joy, PA. It won a AACA First Place award at Hershey in 1962. Was on the October 1967 cover of Hemmings. It has been in the same place in my folks garage since it was delivered by Pass Port Transport. 43,990 miles on it.

I bought the roadster PU in pieces on 7-25-1976 in East Hartford, CT. The truck had 37,300 miles on it when it was taken apart. It was sold originally to and orchard in northern California. I heard about it at the Lawrence, KS swap meet and chased it down.

I bought the Flower Car in pieces on 10-31-1981. It took approximately 15 years and two owners to get it bought. I bought it in Cotati, CA. It was sold originally to a funeral home in Port Townsend, WA.

I bought the Sedan Delivery on 5-28-1993 from the second owner. He had purchased it from the Postal Service in Marysville, KS when he returned home from WWII. It was his daily driver his whole life. I bought it from his estate.

I bought the Teal Vicky on 5-3-1996 out of Wisconsin after seeing an ad in the January 1996 issue of Street Scene. It was built by Gary's Rod and Restoration in Sobieski, WI and upon it's completion it was featured in the June 1993 issue of Rodder's Digest. It has 16,966 miles on it.

I bought the Red Vicky on 7-28-1998 and had it delivered by Pass Port Transport. It was an original Model B that was built into a street rod, by Virgil Statum, Tulsa, OK, for a customer in 1982. It has 42,830 miles on it, 95% of which were in the San Francisco area.