You'd think that billet was of the devil if you look at some web sites. To ignore billet is to ignore a significant era of history in hot rodding, an era which saw the greatest increase and greatest amount of participation in the history of hot rodding.
John Buttera set the trend. We already have a thread for his white roadster:
http://hotrodcraft.com/theGarage/index.php?threads/lil-johns-white-roadster.612/
Here are a few pics from my files. Feel free to add your own favorites!
The first pic you'd quite possibly state that it is NOT truly billet, which I agree is debatable. But it was built during that era, and is one of my favorite deuce 3-windows of all time, as it influenced me more than any other deuce at the time.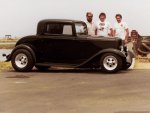 Another deuce 3-window